Why Chemical Exfoliation is Better Than Manual Exfoliation
Say goodbye to your St. Ives Apricot Scrub because chemical exfoliators are taking over (as they should)! I first heard about chemical exfoliation after my best friend recommended me to a dermatologist who specializes in ethnic skin. She gave me a glycolic cleanser and basically let me know it works better to uncover fresh, new skin cells which is essentially what exfoliating is about.
Like a regular face scrub, chemical exfoliators slough away dull skin in a more gentle manner. Sometimes manually exfoliating your skin can do more harm then good especially if you're prone to hyperpigmentation. As stated by celebrity esthetician Renée Rouleau, redness, dehydration, and premature aging can be caused by over scrubbing which is exactly what we all want to avoid. I personally believe that a scrub used once a week wont be that harmful but otherwise I do feel that a chemical exfoliator is the better option overall and provides better results.
I'd recommend going to a dermatologist and asking about it or trying one out for yourself. A few chemical exfoliators I'd recommend are: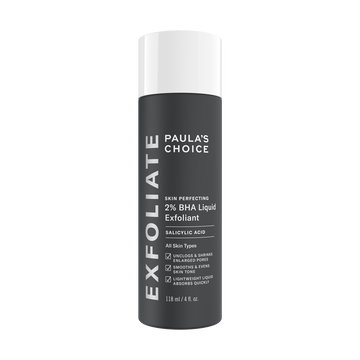 1. Paula's Choice Skin Perfecting 2% BHA Liquid Exfoliant $23
This exfoliator is a worldwide favorite, five star rated product and if it unclogs pores, smooths wrinkles, and evens the skin tone like it claims to do, I can easily see why. That, and the price point isn't bad at all!



2. Dr. Dennis Gross Alpha Beta Extra Strength Daily Peel $88
This 4.5 star product boasts a patented formula containing seven exfoliating acids that provide a super gentle peel over time. Using this product is basically like taking a super short trip to an amazing dermatologist as Dr. Dennis Gross actually uses a version of this on patients at his NYC practice. $88 seems like a quite a steal if you compare the price to the cost of visiting a dermatologist. There's also a regular strength and ultra gentle version of this product in case you have extremely sensitive skin and would prefer or a more mild version.




3. Drunk Elephant T.L.C. Sukari Babyfacial 25% AHA + 2% BHA Mask $80 
Also a 4.5 star product, this mask gently gets rid of built-up dead skin cells by breaking down the substance that holds them to the surface. It also brightens, tones, smooths the texture of the skin, minimizes fine lines, wrinkles and pores, and boosts overall clarity.
If you're looking for a chemical exfoliator, definitely don't hesitate to give one of the mentioned products a try. They're all highly rated for a reason! If you have another great suggestion, let us all know in the comment section
Disclaimer: This post is not sponsored but some affiliate links may be used. They will direct you to a retailer website if you are interested in making a purchase. They do not cost you anything but we may earn a commission. All thoughts and opinions are and will remain genuine.