My Top 10 Products for Natural Hair
I've been natural since around 2012/2013 and I've used tons of different products. I've looked at several different hair type charts and all of them are slightly different, but going off of the below chart I believe my hair type is a mix between 4a and 3c. It's also high porosity (which means it absorbs and holds a lot of moisture) and the strands are fine.

I'll admit I'm not amazing when it comes to styling natural hair but I do know how to make it grow quickly and the best products to keep it moisturized, the best products for detangling and the best products for the styles I know how to do 😂Below are my top 10 favorite products for natural kinky curly hair!
.
1. Viviscal
If you're a close friend of mine or even just a friend of mine on social media, you've heard me talk about this at least once! I discovered this product while searching for something to reverse the fact that my hair was falling out either from the fact that I have lupus or the medicine they give you. It wasn't falling out that bad but it was enough to annoy me and make me worry. I started taking the regular version (in the pink box) after reading tons and tons of reviews. According to the reviews, you'd begin to see results in about a month and the results would just keep getting better from that point. It was also a general consensus that your hair would begin to thicken before it lengthened out and you'd 100% see growth around your hairline and edges.

I noticed a huge difference within the first month and although I eventually got off of the medicine and my hair stopped falling out, I still continued taking the Viviscal. I began taking it around 2017, switched to the professional strength and stopped taking it daily in 2019. My hair became thicker and grew a little bit between midback and bra strap length. The ingredients don't cause any breakouts which was one of my biggest fears because every other supplement I've taken wreaked havoc on my forehead lol! I honestly believe the fact that the ingredients include shark cartilage is the reason my hair grew so quickly. I don't know what exactly it does for your health but I'm a fan. I don't recommend taking Viviscal if you're allergic to shellfish for that reason though. My mom is allergic and I gave her some…let's just say she felt like she was coming down with the flu.

But overall if I could give this product 10 thumbs up, I would! You can get the regular strength in Target or Ulta for $40 (which is a 60 day supply) or the professional strength in a dermatologist office for $60. Unless you're allergic to something in the formula, you will 100% not regret taking this supplement.




2. Black Castor Oil, Peppermint Oil, Avocado Oil, Pumpkin Seed Oil, Grapeseed Oil, Sweet Almond Oil
I like to make my own growth oil because I just feel like it's more cost effective. If you were to buy a 24oz bottle from a company with all of the different oils in it, it would cost between $30-$40 for two month supply and if you made it yourself, you'd have enough oils to make a 1-2 year supply for close to the same price. I came up with this mixture by looking at ingredients of different hair growth brands as well as doing my own research.

The first oil I use in my mixture is Jamaican Black Castor Oil. I think just about everyone has heard sorcerous things about this oil when it comes to hair. It's known for it's ability to make your hair grow like rapunzel. Whether or not you retain that growth is up to you, but black castor oil does the job it came to do and it does it well.

The next oil, peppermint oil, is not one of my faves because I really don't like the minty, cold feeling on my scalp but I suck it up because it's known to increase circulation which promotes hair growth.

Avocado oil is one of the few that can penetrate the hair shaft instead of just sitting on top of it. It also unclogs blocked follicles and promotes blood flow if massaged into the scalp

Pumpkin seed oil contains essential fatty acids and vitamin E which really plumps up the hair follicles and promotes thickness.

Grapeseed Oil is super lightweight and it can moisturize your hair without weighing it down so I added a lot of that to thin the oil mixture out a bit.

Sweet Almond Oil is also another great lightweight oil that is another lightweight oil thats bomb for moisturizing, stimulating growth and minimizing hair loss.

I put all of those oils into one of those bottles with a pointed nozzle (which I purchased at my local beauty supply store) and massaged it into my edges and scalp every 2-3 days. I think it definitely helped with the health of my scalp and growing my hair quickly!  




3. The Entire Design Essentials Brand
This whole brand is amazing for natural hair! They have something for everyone whether you're looking for a super intensive conditioner for dry hair, a detangling shampoo, a thickening shampoo, etc. My favorite products from this brand are the Volumizing Shampoo, the Honey Creme Moisture Retention Shampoo, the Almond & Avocado Moisturizing & Detangling Shampoo and the Almond Butter Express Instant Moisturizing Conditioner.

I use the Volumizing Shampoo when I'm gonna do a sleek ponytail so my hair looks thicker, the Honey Creme Shampoo on the regular (this is my main shampoo), the Almond & Avocado Detangling Shampoo when I'm out of my detangling product (that I typically use before I shampoo), and the Almond Butter Conditioner on the regular as well. You can find these products in Target or in any local beauty supply store!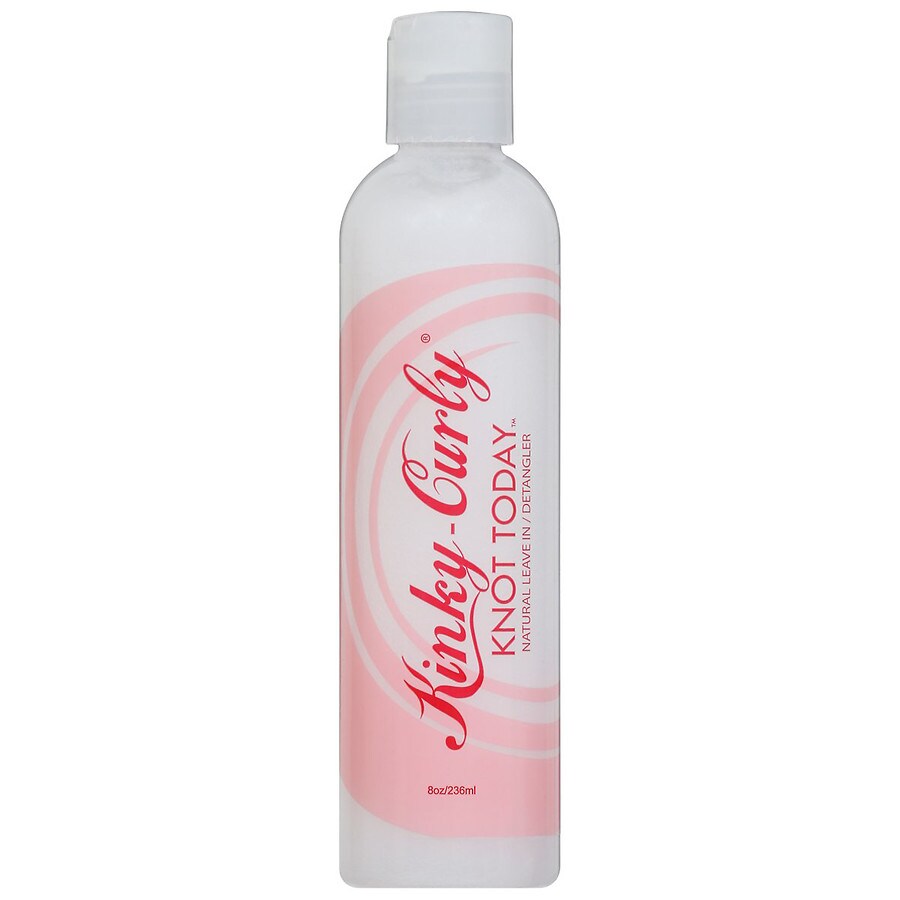 I've been using Knot Today for about 6-7 years and it's definitely become a staple in my natural hair routine. It can be used as a leave-in conditioner or as a detangler—I use it for both. It just adds a certain amount of slip to the hair when you're trying to separate the strands AND it defines curls really well also. I typically use it right before I shampoo my hair to detangle, and then I use it again after I condition during my LOC moisturizing process. I usually get this from Target or a local beauty supply store like most of the other products.

5.Olaplex No.5 Bond Maintenance Conditioner

Love love LOVE this conditioner! I first heard of it on a hair blog years and years ago but I never actually bought it until last year. I like that it strengthens your hair like nothing I've ever used before. I only apply it to the lower half of my hair because I feel like that's generally where people's strands tend to be the weakest. I will say that I find if I don't use a different moisturizing conditioner afterwards, my hair feels a bit dry and rough…which is kind of odd considering it is a conditioner, but I look at it as more of a strengthening treatment.

6. Elasta QP Olive Oil Mango Butter Moisturizer

This is also another product I've been using for a while (10+ years). I love how thick the formula is and how your hair feels after putting some in! For some reason while the formula is thick, it doesn't weigh your hair down. I usually use this product right after the Knot Today Leave In.

7. Gorilla Snot
I was introduced to this product by my best friend and it's quickly become a staple for my sleek curly ponytails! Before using this, nothing could keep my hair slicked down for longer than an hour. With the Gorilla Snot, my hair stays super slicked down and it also gives my hair a wavy effect.

What I do is squeeze out a quarter size of the product and apply it all over my hair (focusing mainly on the front), while my hair is already in a ponytail. After that I grab a bristle brush and smooth the product down and into my hair. Next I grab a silk or satin scarf and tie my hair tightly and I leave it on for at least 10 minutes although the longer, the better. After you take the scarf off, your hair will be slicked down for the rest of the day!

I wouldn't recommend using this if you're trying to do a super straight sleek ponytail, because in my experience it will make your hair wave up.







8. Denman Brush
I don't know of any natural girl who doesn't own a Denman brush. The Denman brand was the original brand to come up with this style of brush and there have been tons of copies since then (cheap and expensive). I first found out about it when I was in high school while browsing a hair forum and my hair routine has most definitely made a change for the better since I started using it. I used to hate doing my natural hair because it took a really long time to detangle, but this brush changed that ASAP. I even use it to detangle my hair in the shower and it doesn't rip my hair out like other brushes would.

Another good thing about this brush is that it's pretty much one of the only tools that gets curls super defined. Like I said, other brands have took the style and altered it but for the longest, it's been the only brush that can help define your curl pattern without any frizz. If you get hair stuck in the brush, you can remove the red part by sliding it out to clean it! 

This brush also has a bunch of different variations when it comes to the number of rows for the pins. You can choose from the 5 row all the way up to 9. I'm not sure what difference the number of rows makes to be honest, but I've always used the 7 row version.

But as you can see, Denman is like the optimus prime of brushes…it's just a bomb ass brush 😂 I have nothing else to say about it other than that.

You can check it out here if you're interested.



9. Herbal Essence Hello Hydration Shampoo & Conditioner
I use this line from Herbal Essence on my extensions and wigs, and sometimes my natural hair when I've run out of everything else. I also use it when I wash my hair more than once a week during those times I'm switching hair styles or just using a lot of gel. I don't like to waste my more expensive products for those moments so I use this shampoo and conditioner. I like it because it's super inexpensive ($3) and actually works wonders on natural hair!

10. Edge Booster Edge Control
Nothing has been able to hold my edges down and keep my hair straight at the same time as well as this product! My hair would always curl or poof back up but Edge Booster's pomade keeps my hair slicked down wherever it's applied. I'm not sure where to get this outside of the asian beauty supply stores, but it costs about $5 and comes in tons of different scents.


Got any products you can't live without? Share them with us in the comment section below ♥

——————
▸ Instagram: @xprimetimebeauty
▸ Twitter: @primetimebeauty
▸ Facebook: Primetime Beauty
▸ Snapchat: Primetimebeauty
▸ Pinterest: Primetime Beauty
This post is NOT sponsored. Some affiliate links may be used. They will direct you to retailer's websites if you are interested in making a purchase. They do not cost you a dime but I make a tiny percentage from the sales which keeps my site/channel going! All thoughts and opinions are my own ♥